Product Summary
The CY62128ELL-45SXI is a 1-Mbit static RAM. This device features advanced circuit design to provide ultra low active current. This is ideal for providing More Battery Life in portable applications such as cellular telephones. The device also has an automatic power down feature that significantly reduces power consumption when addresses are not toggling.
Parametrics
CY62128ELL-45SXI absolute maximum ratings: (1)storage temperature: -65 to 150℃; (2)ambient temperature with power applied: -55 to 125℃; (3)supply voltage to ground potential: -0.5 to 6V; (4)DC input voltage: -0.5 to 6V; (5)output current into outputs: 20mA.
Features
CY62128ELL-45SXI features: (1)Voltage range: 4.5V to 5.5V; (2)Pin compatible with CY62128B; (3)Ultra low standby power; (4)Automatic power down when deselected; (5)CMOS for optimum speed and power.
Diagrams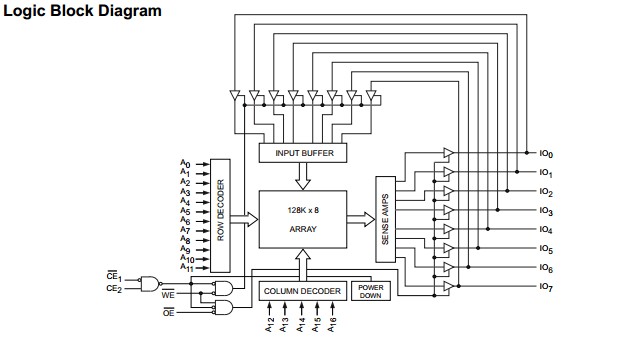 Image
Part No
Mfg
Description
Pricing
(USD)
Quantity

CY62128ELL-45SXI

Cypress Semiconductor

SRAM 1M MOBL ULTRA LO PWR HI SPD IND

Data Sheet



| | |
| --- | --- |
| 0-1: | $2.12 |
| 1-25: | $1.84 |
| 25-100: | $1.73 |
| 100-250: | $1.45 |


CY62128ELL-45SXIT

Cypress Semiconductor

SRAM 1M MOBL ULTRA LO PWR HI SPD IND

Data Sheet



| | |
| --- | --- |
| 0-1: | $2.18 |
| 1-25: | $1.89 |
| 25-100: | $1.79 |
| 100-250: | $1.49 |