Product Summary
The MAX7317AEE+ is a 10-port spi-interfaced i/o expander.The MAX7317AEE+ serial-interfaced peripheral provides microprocessors with 10 I/O ports rated to 7V. Each port can be individually configured as either an opendrain output, or an overvoltage-protected Schmitt input. The MAX7317AEE+ supports hot insertion. All port pins remain high impedance in power-down (V+ = 0V) with up to 8V asserted on them. The MAX7317AEE+ is available in 16-pin thin QFN and QSOP packages and operates in the -40°C to +125°C range. For a similar part with constant-current outputs and 8-bit PWM controls, refer to the MAX6966/MAX6967 data sheet.
Parametrics
MAX7317AEE+ absolute maximum ratings: (1)Voltage (with respect to GND) V+: -0.3V to +4V; (2)SCLK, DIN, CS, DOUT: -0.3V to (V+ + 0.3V); (3)P-: -0.3V to +8V; (4)DC Current in P-: 24mA; (5)DC Current into DOUT: 10mA; (6)Total GND Current: 200mA.
Features
MAX7317AEE+ features: (1) High-Speed, 26MHz SPI.-/QSPI-./MICROWIRE.- Compatible Serial Interface; (2) 2.25V to 3.6V Operation; (3) I/O Port Inputs are Overvoltage Protected to 7V; (4) I/O Port Outputs are 7V-Rated Open Drain; (5) I/O Ports Support Hot Insertion; (6) 0.7μA (typ), 1.9μA (max) Standby Current; (7) Tiny 3mm x 3mm, 0.8mm High Thin QFN Package; (8) -40℃to +125℃ Temperature Range.

Diagrams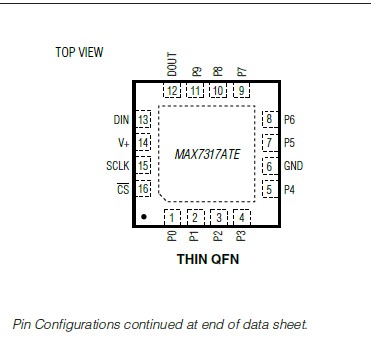 Image
Part No
Mfg
Description
Pricing
(USD)
Quantity

MAX7317AEE+

Maxim Integrated Products

I/O Expanders, Repeaters & Hubs 10-Bit I/O Port Expander

Data Sheet



| | |
| --- | --- |
| 0-1: | $2.04 |
| 1-25: | $1.37 |
| 25-50: | $0.99 |
| 50-100: | $0.98 |


MAX7317AEE+T

Maxim Integrated Products

I/O Expanders, Repeaters & Hubs 10-Bit I/O Port Expander

Data Sheet



| | |
| --- | --- |
| 0-2010: | $0.91 |
| 2010-2500: | $0.91 |